Boundaries, Frontiers, and Conduits in the Middle to Late Holocene Archaeology and Palaeoecology of the Inner Congo Basin (Applicant Wotzka, Hans-Peter)
Some of the most significant interactions in African prehistory revolve around the timing and nature of human transgression of the boundary between savanna and rainforest biomes. Inter-regional entanglements and the dramatic cultural and climatic upheavals that appear during the middle to late Holocene are the subject of much scholarly speculation, but archaeological evidence is largely absent. This is especially true for reorganisations of the forest-savanna boundary and the conditions under which widespread settlement of the tropical forest zone by agriculturalists took place. Furthermore, entanglement with broader tropical Africa has significant implications for subsequent developments associated with the establishment and intensification of inter-regional social, technological, and ecological interdependencies from the earliest Iron Age (ca. 400 cal BC) through the Colonial Era (post 1850 AD).Linguistic and molecular biological studies of modern African populations provide arguments for a widespread Holocene settlement of the forest zone by subsets of a larger population who spoke ancestral Bantu and were familiar with agriculture. However, basic aspects of African rainforest archaeology such as the routes of human dispersal, subsistence practices, and mobility patterns of these settlers remain unresolved. Equally problematic is that the number of palaeoecological records from the tropical forest zone is insufficient to resolve questions about the degree of forest fragmentation during millennial-scale arid intervals that characterize the Late Holocene or the timing and intensity of anthropogenic disturbance of forests. This project seeks to address two questions regarding the processes by which the Inner Congo Basin (ICB) became entangled in
cultural and ecological changes in broader tropical Africa, particularly as it relates to changing cultural and ecological boundaries. First, where are the boundaries between the major cultural complexes identified in the ICB and when do they appear? Second, how does the amplitude and timing of vegetation response to climatic change across the Holocene record compare with the timing of human settlement? The proposed research would require spending 24 weeks in the Democratic Republic of the Congo. Fieldwork is envisioned to focus on archaeological reconnaissance, survey, and excavations in addition to palaeoecological sampling along two stretches of the Congo River which connect extant project areas established by previous research in the 1970–1980s, and 2015 until present as well as project areas established by contemporary cutting-edge research projects by the Royal Museum for Central Africa in Belgium. New excavations and the collection of sedimentary palaeoenvironmental records will resolve important questions about the boundaries, frontiers, and conduits of entanglement across the ICB as well as the environmental contexts and consequences of these developments. Prof. Dr. Hans-Peter Wotzka

University of Cologne / Institute for Prehistory and Early History / Research Center Africa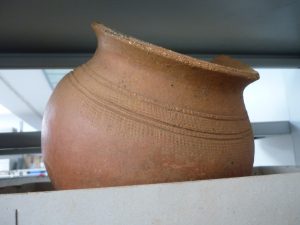 SPP Networking Meeting 'Ceramics' in Frankfurt/M, June 18-19, 2019 Attendees: Carlos Magnavita (Frankfurt), Christopher Breninek (Leipzig), Dietrich Raue (Leipzig), Friederike...
Read More