Connecting Foodways: Cultural Entanglement and Technological Transmission between the Middle Nile valley and central and eastern Africa during the Early Iron Age (Project Director Wolf, Simone)
Our contribution to the study of inter-regional African entanglements will explore cross-cultural connections in central and eastern Africa through the study of past foodways. A number of recently discovered kitchen contexts from the region of Meroe, Sudan, will serve as a basis for identifying a range of material correlates of preparatory and consumptive practices during the Early Iron Age (ca. 1000 BC – 1000 AD). Our multidisciplinary approach will focus on the functional traits of food-related material culture, incorporating a broad suite of laboratory analyses. These high resolution investigations will serve as the first step in generating a detailed model of the regional tradition of food processing and consumption. In a second step, the Meroe case study will then provide the basis for a cross-cultural comparison within the study area of central and eastern Africa, for example Eritrea, Ethiopia and Chad, utilizing excavation material, legacy data and published sources. This way, specific food-related artefacts will serve as indicators of interaction throughout this region, to identify broader African traditions of food technologies. Dr. Simone Wolf

German Archaeological Institute / Headquarters Berlin
simone.wolf@dainst.de
Ulrike Nowotnick M.A.

German Archaeological Institute / Headquarters Berlin
ulrike.nowotnick@dainst.de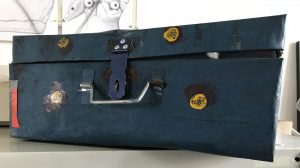 Picture 1: A suitcase on a journey. Photo © A. Höhn (Project 5). One (two) suitcase(s) with charcoal in Berlin...
Read More