The settlement of Viytenky dating to the Late Roman and the Early Migration periods is one of the long-lasting cooperation projects of the Eurasia Department of the DAI with Ukrainian archaeologists. Since 2005, a total of four joint projects have been carried out. Therefore, we were very pleased to hear from our cooperation partner Mikhail Liubichev about an exhibition opening (Fig. 1) and plans to establish an open-air museum in Viytenky. This is also a very important sign that scientific and cultural life in the war-torn Kharkiv region of eastern Ukraine continues despite all odds and we admire the courage and fortitude of our colleagues working under such difficult circumstances. In this post, Mikhail Liubichev will report about the "Ostrogothia" exhibition.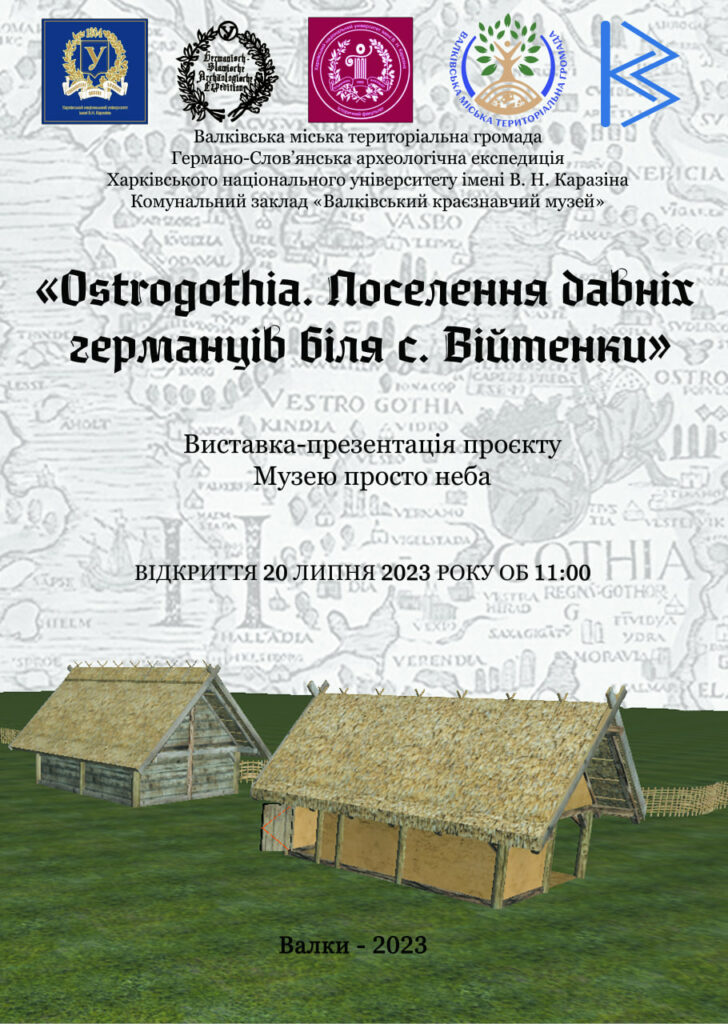 Due to the war, the Germanic-Slavonic Archaeological Expedition of the V. N. Karazin Kharkiv National University (head: Mikhail Liubichev) was not able to continue its long-term excavations of the archaeological site near the village of Viytenky dating from the Late Roman to the beginning of the Migration period in 2022 and 2023. Therefore, at the moment, the efforts of the expedition and its teaching and research lab are directed at writing scientific publications and reports and maintaining the expedition camp.
In November 2022, the Valki Museum of Local History established the Department of Archaeology (head: Viktoria Gogunskaya), based on results and findings of our expedition. The task of this department is to build an open-air archaeological museum at the archaeological complex of Viytenky, near the expedition camp, following the model of the museums known from other countries as "Skansen". The expedition supports this project of the municipal administration of Valki (head: Valeryi Skrypnichenko). The project aims at reconstruction of buildings and features of the Late Roman period: wattle and daub architecture, pit houses, pottery kilns, ceramic workshops, storage buildings with querns, etc. All these objects have been investigated here at the settlement of Viytenky since 2004, in close cooperation with the Eurasia Department of the German Archaeological Institute.
The expedition has already gained experience in reconstruction of houses from settlements of Cherniakhiv culture. In 2010–2011, on a private ground near the village of Melichovka we built a pit house and a wattle and daub house, based on insights from excavations at Viytenky.
On July 20, 2023, a small exhibition "Ostrogothia. A Settlement of Ancient Germanic People near the Village of Viytenky" was opened in premises of the Museum of Local History in Valki (Fig. 2). It exhibits objects of material culture of the Late Roman period from the settlement Viytenky, cemeteries Viytenky and Zachepilovka (Figs. 3–4), as well as the concept of the open-air museum project "Skansen-Viytenky" (Figs. 5–7). For further development and detailed design of the project it is very necessary to consider the experience of similar museums in European countries, especially in Germany and Poland.
Mikhail Liubichev