Attribution & Copyright: T. Karberg
Interregional Linkage Investigations on Northern Kordofan - Lecture at the Berlin Sudantag 2022 in the James-Simon-Galerie
The InterLINK project was presented at this year's Berlin Sudan Day on 18 June, organised by the Sudanarchaeological Society of Berlin (SAG), the Humboldt University of Berlin (HU), the Egyptian Museum and Papyrus Collection (ÄMP-SMB) and the German Archaeological Institute (DAI).
Jana Eger-Karberg (Project 03) reported in her lecture "Sand, Satellites and Statistics – Geo-Archaeology in Western Sudan on the Computer" on the progress of archaeological work in North Kordofan, this time focusing on the analysis of radar satellite data and digital terrain models.
Although these data and their analysis are commonly considered a "dry" subject, their content was exactly the opposite: Both the radar data and the terrain models were examined primarily with regard to surface water runoff channels as well as underground groundwater flows. This makes it possible to identify longer-term active favourable zones, which also have an impact on land use in past centuries and thus on the distribution patterns of archaeological features.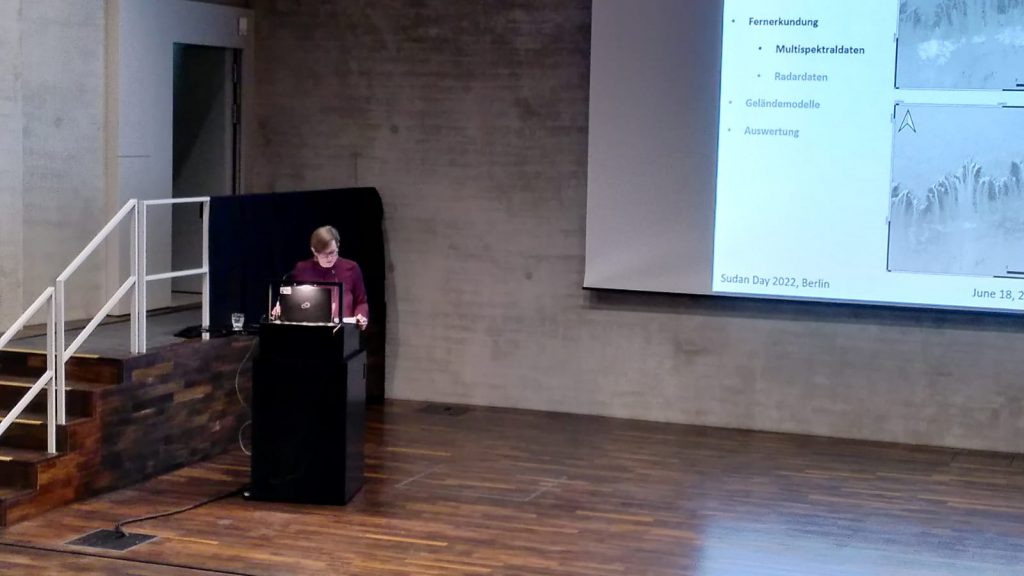 Another lecture related to the topic "Northern Kordofan as Crossroads" was given by Dr. Yousif Elgazafi, who reported on his research on the pottery of Zankor, a centre of the Iron Age Old Kordofan culture. Prof. Howeida Mohammed Adam, close cooperation partner of the InterLINK project, also gave a lecture – but this time on her other research focus, the Royal City of Meroe.
Despite the hot weather, over 50 listeners followed the lectures on site in the lecture hall of the James-Simon-Galerie on Berlin's Museum Island. More than 80 other interested people were connected online. The fact that a considerable part of them participated from Sudan was a special pleasure for us, just like the lively and interested discussion of the presented research results.