Piece of a shea tree branch from the archaeobotanical reference collection in Frankfurt (Attribution & Copyright: G. Försterling).
Identifying Archaeological Plant Remains under the Microscope: the Archaeobotanical Reference Collection in Frankfurt
To trace the emergence of cultural landscapes in prehistoric Africa, scientists use a variety of archaeological and scientific techniques. For the reconstruction of the usage and distribution of wild and cultivated plants, an archaeobotanical reference collection is of great use. This offers a large selection of prepared parts of modern plants, which archaeobotanists can use to identify archaeological plant remains.
For West Africa, the world's largest reference collection of this kind is located at the Goethe University Frankfurt. Almost 20,000 objects of more than 2000 plant species are stored here. Therefore, researchers from all over the world are attracted to Frankfurt in order to compare their findings with the collection material.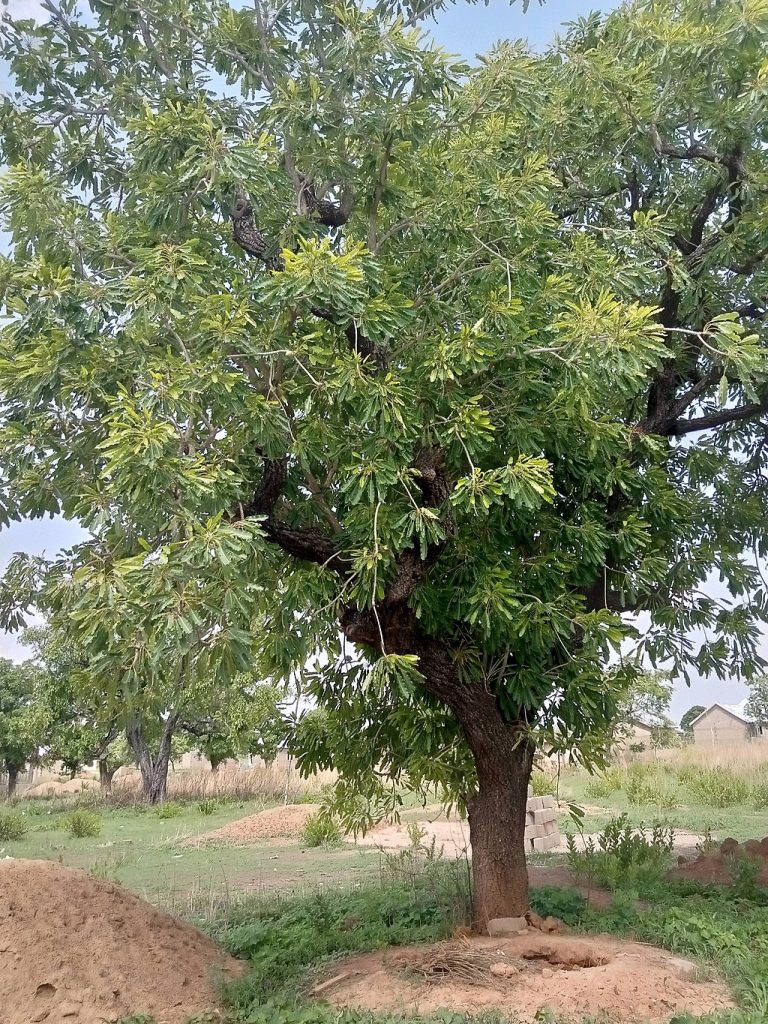 A Shea tree in northern Ghana (Attribution & Copyright: Musahfm, CC BY-SA 4.0, via Wikimedia Commons).

Thin sections of a Shea Tree collected in Burkina Faso in 1994 (Attribution & Copyright: G. Försterling).
The shea tree pictured here on the left – no doubt familiar to many from skin care products – is one of the most important agricultural trees in West Africa. This applies equally to the present as to the past. The pink rectangles are thin sections less than 1mm thick that, when viewed through a microscope, reveal the plant's unique wood structure
The reference collection is also an indispensable aid for the researchers of the SPP project "Cultivated Landscapes" (project 05). The thin sections of the shea tree make it possible to accurately assign even charred wood pieces of a few millimeters in size to this plant species. These results, coupled with other archaeological and archaeobotanical finds, make it possible to trace the emergence and development of humancultivated landscapes in the West African savannas. In addition to providing insights into the past, this research can also help to develop and secure the existence of sustainable land use systems for the future.