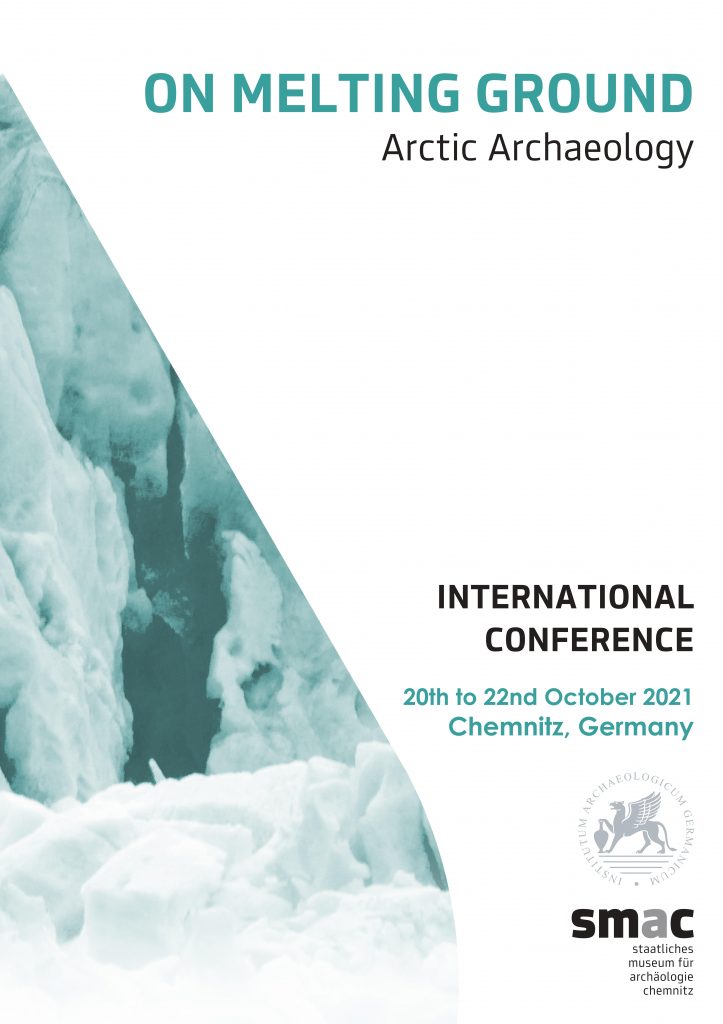 Konferenz "On melting ground. Arctic Archaeology" 20.-22.10.2021, smac, Chemnitz und online
-english below-
Für Herbst 2023 plant das Staatliche Museum für Archäologie Chemnitz (smac) zusammen mit der Eurasien-Abteilung des Deutschen Archäologischen Instituts eine große Sonderausstellung zur Arktischen Archäologie. Die Ausstellung "Auf dünnem Eis" möchte die Vielfalt der Kulturen, die Widerstandsfähigkeit und den Einfallsreichtum der arktischen Völker zeigen und gleichzeitig auf die Gefährdung dieses einzigartigen Kulturraums hinweisen.
Vom 20. bis 22. Oktober 2021 soll in diesem Rahmen eine internationale Tagung im Hybridformat – in Chemnitz und online – stattfinden. Sie dient nicht nur der inhaltlichen Vorbereitung der Ausstellung, sondern wird erstmals in Deutschland den aktuellen Stand der archäologischen Forschung in der Arktis präsentieren.
Folgende Vortragssessions sind geplant:
1) Mythos Polarkreis: Expeditionen ins Eis, Kolonialisierung, Missionierung
2) Erforschung des Naturraums, des Klimas und seiner Veränderungen
3a) Kulturgeschichtlicher Abriss: Kulturen im Eis
3b) Arktisches Kulturerbe-Management
4) Aktuelle archäologische Ausgrabungen der letzten 15 Jahre
5) Die Arktis in Museumssammlungen
Die Konferenzsprache ist Englisch, mit Simultanübersetzung ins Russische. Die Veranstaltung wird auch in Form einer Videokonferenz mit der Software "Zoom" durchgeführt. Bitte registrieren Sie sich bei dem Organisationsteam (Infos im Programmflyer).
Conference "On melting ground. Arctic Archaeology" 20.-22.10.2021, smac, Chemnitz and online
In cooperation with Eurasia Department of the German Archaeological Institute, the State Museum of Archaeology Chemnitz (smac) is planning a special exhibition on Arctic Archaeology due to open in autumn 2023. The exhibition "On Thin Ice" (working title) aims to represent the cultural diversity, resilience and resourcefulness of Arctic peoples and to illustrate the unique cultural heritage threatened by climate change.
In preparation of the exhibition, an international conference on this topic will be held in October 2021 (20th to 22nd). The conference aims to portray the current state of research in the circumarctic region.
The following sessions are scheduled to take place at the conference:
Session 1: The Myth of the Arctic Circle: Expeditions into the Ice, Colonization and Missionary Work
Session 2: Exploring the Natural Environment, the Climate and its Changes
Session 3a: Outline of Cultural History: Cultures in the Ice
Session 3b: Arctic Culture Heritage Management
Session 4: Current Archaeological Excavations
Session 5: The Arctic in Museum Collections
The working language of the conference is English, with simultaneous translation into Russian. The event will also be conducted as a video conference using the software "Zoom". Please register with the organizers (info in the program flyer)