Every find that archaeologists make by digging in the ground is actually a tiny piece of a big story. It is also possible to dig through an archive just like an archaeologist and find many stories. These stories could be about a photographer who worked in the archive, a visitor who happened to pass through the archive, an object that was used in the archive, or just a photograph.
So, we would like to introduce you to the story of Elisabeth Steiner, better known as Taş Hanım. She was the Pergamon excavation photographer for 35 years. Because of her surname, the people of Bergama and the members of the Pergamon excavation team knew and still know her as Taş Hanım — Mrs. Stone.
Read More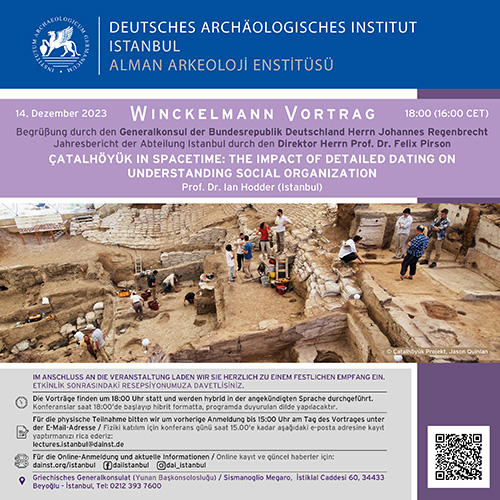 We invite you to our annual Winckelmann Lecture, which will...
Read More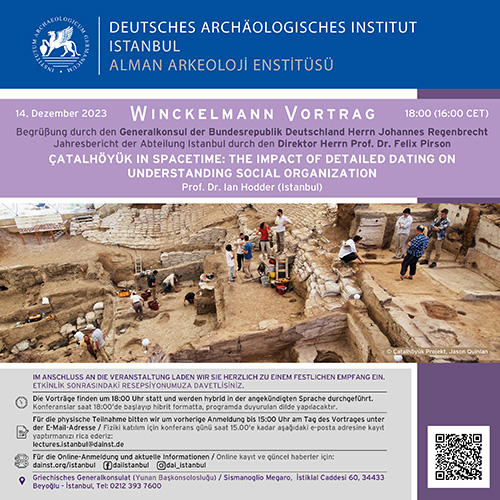 14.12.2023, 18:00 (16:00 CET)
Winckelmann Lecture:
Çatalhöyük in Spacetime: The Impact of Detailed Dating on Understanding Social Organization
Prof. Dr. Ian Hodder (Istanbul)
The event will take place in a hybrid format.
Please use the QR code for online registration. To attend in person, please send an email to
lectures.istanbul@dainst.de
by 15:00 on the day of the lecture.
Online registration link: 
Important Announcement !!!
The event on December 14, 2023 will take place at the Greek Consulate General / Sismanoglio Megaro due to technical problems.
Adres:
Yunan Başkonsolosluğu / Sismanoglio Megaro, İstiklal Caddesi 60,
34433 Beyoğlu – İstanbul
Enjoy the exhibition "An Archive within an Archive" in English and Turkish!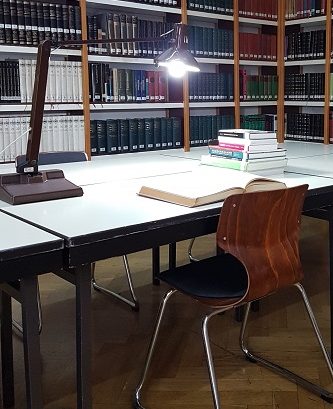 Opening Hours
Our library can be accessed from Monday to Friday (9:00 – 16:00, entry until 13:00 on Fridays).
Contact: bibliothek.istanbul@dainst.de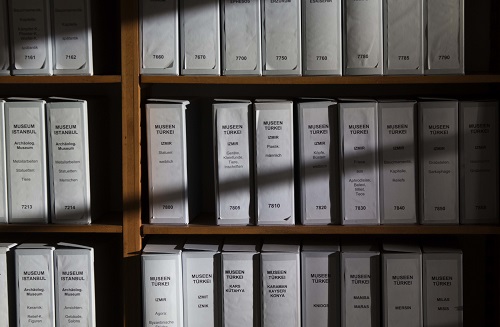 Opening Hours
Our archives can be accessed and consulted by appointment on Monday (09:00 – 16:00) and Tuesday (09:00-12:00).
Limitations may among other things result from waiting periods, severe damage, or unfinished inventorying. Requests for using the excavation archives must be addressed to the respective excavation leaders.
Contact (Archives): archiv.istanbul@dainst.de
Contact (Photo Archive): fotothek.istanbul@dainst.de