With the conquest of large parts of Europe, Rome was confronted with administrative problems. This task was assigned to the cities. At places where cities were lacking, as in the western, northern, and African provinces, sometimes they had to be established. The building requirements were always the same. Each city had to manage the task with its own resources. The diversity of solutions with the respective economic possibilities placed the cities in a conflict between requirements and necessity.
Munigua is located about 10 km north of today's Villanueva del Río y Minas in the province of Seville. The town is characterised by a number of peculiarities, of which the tiny size of 3.8 ha and the lack of an orthogonal planning concept stand out. Although the city is small, its public buildings are surprisingly complete and diverse. Researchers from the Madrid Department of the DAI have worked in Munigua since 1956. Currently, the city and its architectural form are again the focus of interest. Investigations on the functional quality of the buildings are concentrating on their representative dimension for the transmission of political power, social difference, and cultural identity.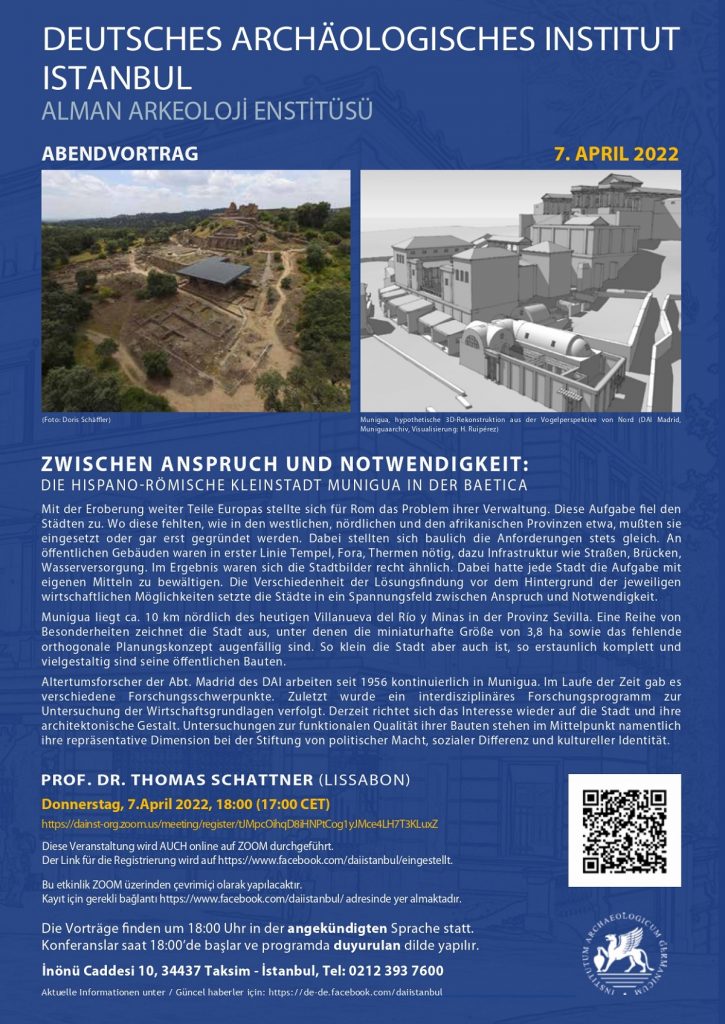 Graphic: B. Akan
Thursday, 07.04.2022, 18:00 (17:00 CET)
Prof. Dr. Thomas Schattner (LISSABON)
The lecture will be held online via Zoom in German.
Registration link:
https://dainst-org.zoom.us/meeting/register/tJMpcOihqD8iHNPtCog1yJMce4LH7T3KLuxZ