Wavy Line and Herringbone
On 14.07.2020, the ceramic specialists from the priority programme "Entangled Africa" once again met virtually to compile ideas and contributions for the "decoration-catalogue" discussed in previous meetings.

Ceramic processing must be flexible, able to adapt to the conditions of excavation and object. At the same time, the records of those working on this find genre from different regions should be comparable. Done to speed up and standardize the ceramic recording on site, the elaboration of the catalogue was successfully completed. Together with the standardized recording data generated by all the ceramologists in the field, this provides the opportunity to exchange and compare findings from projects from Mali to Ethiopia without much effort. However, in view of the circumstances, the test on the object must be postponed. Our researchers continue to deal with archaeological questions and everyday challenges at their desks at home, while last year around this time the field research was already in full swing.
The short time spent in the research area or on the excavation is usually the most intensive, but also the most eventful and exciting phase of the year. In this regard, the researcher's heart must currently be patient. As soon as circumstances permit, however, the ceramologists of the Priority Programme will be emanating again and continue their search for answers in the corresponding field of application. Until then, existing ceramic collections can be processed and classified with the help of the defined listing. The standardization of numerous different recording systems is a long-term process and above all costs time and patience, but will ultimately be worth it and possibly promote new findings and conclusions.
At the end of summer 2020, our ceramic specialists will meet again at the "virtual table". Until then, first experience reports on the applicability of the "decoration-catalogue" and the symbiotic documentation will be discussed, so that an active application within following campaigns can be guaranteed.
Within these regular meetings, the results-oriented cooperation of all researchers of the "Entangled Africa" programme is evident. We look forward to further intensive discourses of this kind and will of course keep you informed.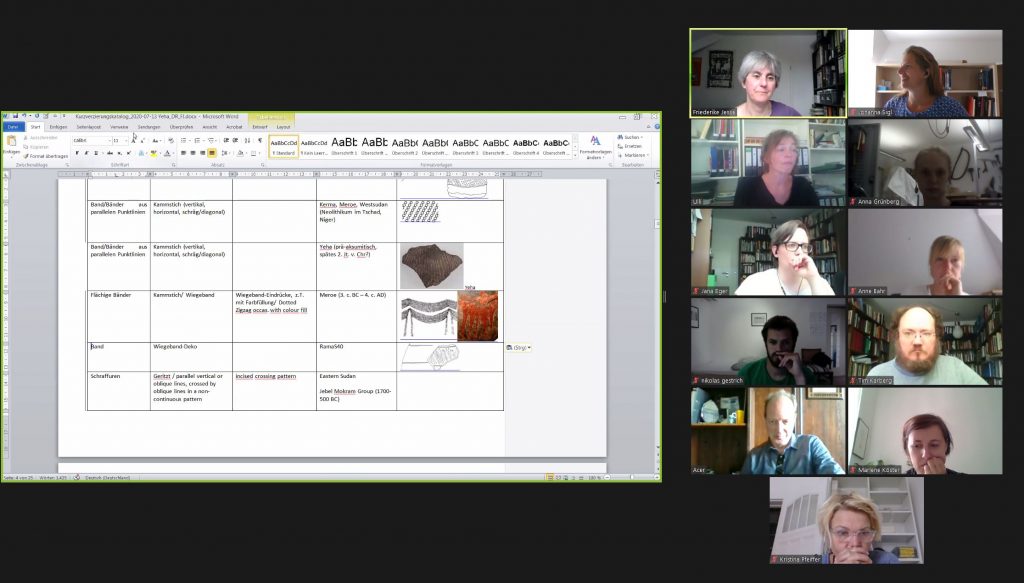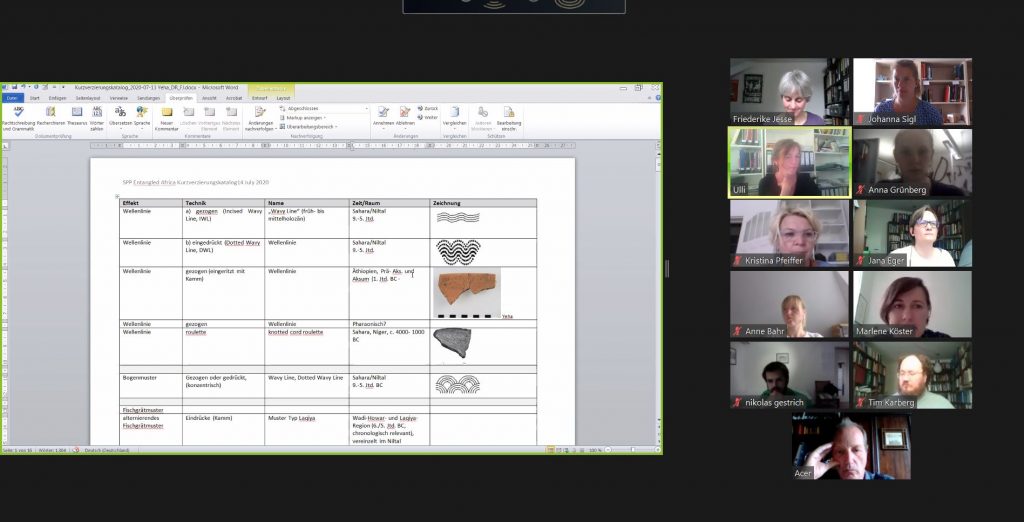 Figures
Fig. 1 (Opener): Decorated Pottery (from Hamadab, Sudan) [© DAI Connecting Foodways project; photo: S. Matthews CFW_PH_200212_0066 and_0067, Compilation: U. Nowotnick]
Fig. 2: Screenshot during conference [© J. Sigl]
Fig. 3: Screenshot during conference [© J. Sigl]