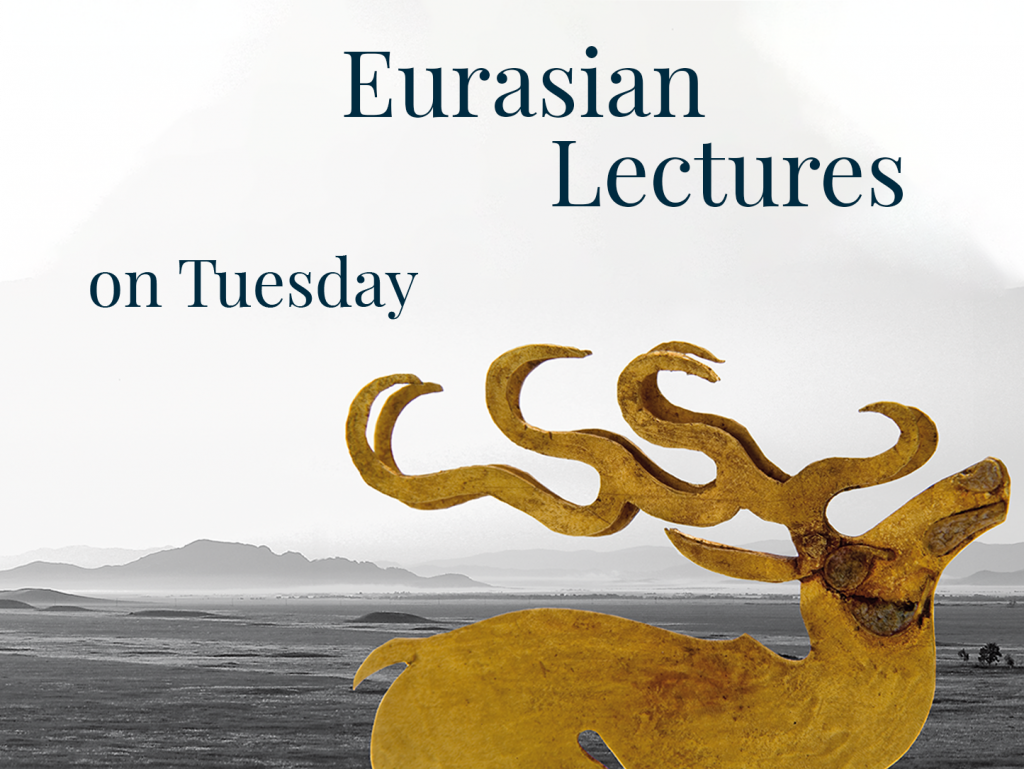 Every second Tuesday of the month, the Eurasia Department invites all interested to a live video discussion of the latest excavation and research news from regions stretching from the Danube to the Pacific, and the Arctic Ocean to the Persian Gulf.
In the current restricted travel situation, we aim to bring international exchange to a virtual format. This will continue ongoing communication in our research, and perhaps even open up new horizons for the future.
The lectures will take place on Tuesday at 15:00 CET and will be in German or English.
The link to the next upcoming lecture will be kept updated here
Actual Lecture
past events
1.12.2020 – Dr. Levan Tchabashvili, University of Georgia, Humanities Department (Georgia) – "Die Trialeti-Kultur" – Übersicht über alte und neue Forschungen
8.12.2020 – Dr. Lisa Yehuda, University of Haifa, Department of Israel Studies (Israel) – On a Crusade for food and kitchen: research on foodstuff and kitchens during the Crusader Period between East and West
15.12.2020 – Prof. Dr. Christina Warinner, Harvard University, Department of Anthropology (USA)/Max-Plank-Institute for the History of Mankind, Jena (D) – Archaeology of the invisible: new frontiers in biomolecular zooarchaeology
12.1.2021 – Dr. Patrick Wertmann, Institute of Asian and Oriental Studies, University of Zurich – New city gates for Luoyang – Chinas endeavour to rebuild the eastern starting point of the Silk Roads
09.2.2021- Dr. Hai Ashkenazi, Goethe University Frankfurt (with Dafna Langgut, Simcha Lev-Yadun, Ehud Weiss, Nili Liphschitz, Gila Kahila Bar-Gal, and Yuval Goren)- Microhistory in Archaeology: The Late Chalcolithic Burial from "The Cave of the Warrior" as a Test Case
9.3.2021- Dr. Svetlana V. Pankova, State Hermitage Museum Saint Petersburg
'Mummies and mannequins from the Oglakhty cemetery in southern Siberia: old collections and new possibilities'
Eurasian Kick-off Lectures
The Eurasian Lectures on Tuesday were started with a series of internal kick-off events in a lose succession. We would like to thank all participants of this events for their interesting contributions on current issues and interesting regional topics in Eurasian Archaeology.
16.06.2020 – Catherine Marro, CNRS Maison de l'Orient et de la Méditerranée, Lyon – The Formation of the Caucasian Neolithic as seen from Kültepe I. New Data (2012-2018)
07.07.2020 – Alexander Fanatlkin, Tel Aviv University, Department of Archaeology & Ancient Near Eastern Cultures – Mediterranean Chronology during the iron Age. Current Challenges and Perspectives.
14.07.2020 – Dmitri S. Korobov, Institue of Archaeology, Russian Academy of Sciences Moscow – The origin of the Alans oft eh North Caucasus through the Lens of Archaeology and Paleo-DNA
21.07.2020 – Dany Rosenberg / Florian Klimscha, University of Haifa, Archaeology Department / Niedersächsisches Landesmuseum Hannover – Preliminary results from the renewed project at Tell Tsaf. Material Culture and the Emergence of the Mediterranean diet in the Jordan Valley.
04.08.2020 – Valentina Mordvinceva, HSE University Moscow – Die sarmatische archäologische Kultur – Netzwerkmodel versus Spekulativmodel.
20.10.2020 – Lorenz Korn, Islamic Art and Archaeology, University of Bamberg – Rab-e Rashidi – Recent Research on the 14th century complex at Tabriz (Iran)
10.11.2020 – Wouter Henkelman, EPHE Paris & Freie Universität Berlin – Fruit from Persepolis. The Fortification archive and recent Palynological Research in Fars, Iran
17.11.2020 – Pierfrancesco Callieri / Alireza Astari Chaverdi, University of Bologna / Shiraz University – The 'Paradise' of Tol-e Ajori, Persepolis Plain