The Bosphorus in Istanbul has been home to a network of fortifications from the Byzantine and the Ottoman periods. Many of the fortifications especially on the north of the Strait were restricted to most civilian access during the Cold War due to the military sites in this region. During this time, the forests on the north of the Strait also flourished and, in a way, concealed and protected the landscape together with its historic structures. This talk will focus on the Upper Rumeli Kavak Fortress, also known as the European Hieron, one of these fortifications that was previously hidden from sight.
A multidisciplinary and multiyear research project was initiated to document the architectural remains at the site and to determine the site boundaries for conservation. Several different field research methods were used to investigate and document the remains of the Upper Rumeli Kavak Fortress which were then brought together with the historical research and rich archival sources from Turkey and several other countries to establish a chronology for the site.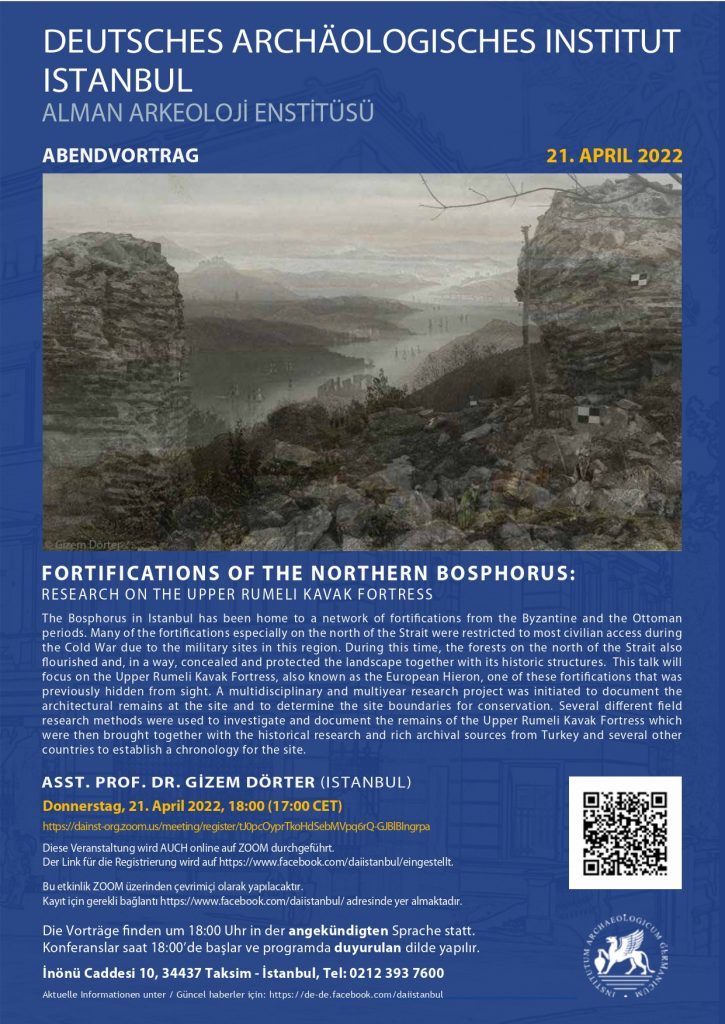 Graphic: B Akan
ASST. PROF. DR. GİZEM DÖRTER (ISTANBUL)
THURSDAY, 21.04.2022,18:00 (17:00 CEST)
The lecture will also be held online via Zoom in English.
Registration link:
https://dainst-org.zoom.us/meeting/register/tJ0pcOyprTkoHdSebMVpq6rQ-GJBlBIngrpa