Every find that archaeologists make by digging in the ground is actually a tiny piece of a big story. It is also possible to dig through an archive just like an archaeologist and find a lot of stories. These stories might be about a photographer who worked in the archive, a visitor who happened to pass through the archive, or an object that was used in the archive, or just a photograph. One of these several stories is about Taş Hanım.
Taş Hanım
Photography feeds archaeology with numerous pictures taken during excavations or in museums for ages. However, usually, our knowledge about the people behind the camera who turned their lens to the numerous archaeological finds and sites is limited. Although the situation is changing nowadays by new regulations. Primarily from early excavations we don't know the names of many archaeological photographers. Their names are often not mentioned in archaeological publications or excavation archives; this has always been a fairly common practice. Especially the historical photographs kept in the archives are the evidence that the photographer's names weren't very important for a long time. Therefore, it is even more satisfying that the name of a female photographer has been preserved in our archives and also in our institute up to today.
So, we would like to present to you the story of Elisabeth Steiner, better known as "Taş Hanım". She was the excavation photographer of Pergamon for 35 years. The inhabitants of Bergama and the members of the Pergamon excavation team knew and still know her as "Taş Hanım" — Mrs. Stone. The name goes back to Bekçi Mustafa.
"Bekçi Mustafa had been the security guard in the excavation house for many years. He had even taken care of the excavation house during the Second World War. Prof. Boehringer introduced us to him at the harbour of Izmir. Mustafa spoke a little German, and when he heard my name he said 'I will call you Taş!" 
But, how did it happen that she was at the harbour of Izmir? After an extensive trip through Western Anatolia, Greece and Italy she started working in Cologne in 1964 as foreign language correspondent. However, her big interest for archaeology carried her to the university there, in order to find an opportunity for a job in the archaeological field. She received the address of the German Archaeological Institute (DAI) in Berlin. There she learned that the director of Pergamon excavation Prof. Boehringer was looking for an employee to work in Pergamon. Early in 1965, she met Prof. Boehringer in Aachen, during a Byzantine exhibition. Boehringer suggested that she attend evening classes at a well-known photography school in Cologne to learn everything about archaeological photography and laboratory work. Right afterwards she started her career in archaeological photography in 1966.
She fondly remembers her Izmir journey:
"The ship departed from Venice and we arrived in Izmir in April 1966, together with 4 or 5 students who would also join the excavation."
After spending the first two excavation seasons (1966 and 1967) in Pergamon, she travelled directly from Bergama together with two German friends to the East by bus, train, and sometimes by hitchhiking through Anatolia, Iran, Afghanistan and Pakistan. After reaching India, they continued their journey to Nepal and Sri Lanka. But, she returned to Bergama in late summer 1968.
"In the time when I came back to Bergama Prof. Boehringer, who, was in his 70s would hand over the excavation leadership soon. Until then, the Pergamon excavation had been under the administration of the Head Office of the DAI. In 1969 it was transferred to the DAI department in Istanbul, so the photo library also came to Istanbul, and I was offered a permanent position there."
The main part of this library is of the excavations at Pergamon, but some photographs are from other sites. Steiner not only documented archaeological subjects with her camera, but she also took pictures of the various places and people in Bergama and its neighbour villages. These photographs from Ephesos, Knidos, Euromos, Aphrodisias, Hieropolis, Nysa, Miletos Didyma, Priene, Sardes, Larissa, and others are collected under the Pergamon-centred umbrella-term "Pergamon-Umgebung".
On the evening of November 12, 1969, the excavation house in Bergama was badly damaged by a fire that broke out due to the chimney. It was restored and partially rebuilt in 1970. Since the newly appointed director of the excavation Prof. Wolfgang Radt had not started his work, Taş Hanım was the only DAI Istanbul employee who had to stay in Bergama during the construction works.
It was an unusual situation in Bergama at that time for a woman to stay in the excavation house on her own. 
"I was often invited for tea or dinner by different families. One day Uncle Ali, who had been a member of the excavation team since the time of Theodor Wiegand, appeared. He was still very close to the excavation team, so he told me: 'You should not sit here all day. I am going to visit Ayvatlar village in the Kozak area tonight. I need to pay a technician there. Why don't you come along with me? You'll see something different'. I never hesitated to say yes and tag along. We reached the village after a two-hour journey by bus. It was already getting dark, the house was locked, and nobody was there. Suddenly we heard a voice: 'Uncle Ali, what are you doing here?' It was Aunt Emine from the neighbour house.
She invited us. And this was the first day of a friendship which would last many years. On our Sunday excursions we visited Aunt Emine and her family every year. We went to village weddings and attended various festivities. In one of our visits she presented me her little grandson, Yusuf. I took it as something like a godparentship and every time whenever I visited them I brought something for my little Yusuf."
Elisabeth took photographs of the excavation processes, restoration works, and finds. These finds included statues and marble pieces, potteries and pottery sherds, broken glass and coins.
"I developed the black and white films in a small dark room in Pergamon. In the beginning I photographed the small finds in a closed doorway in front of the dark room. A photographic studio was built on the initiative of Wolfgang Radt in 1972. Since there was no time to make photoprints during the excavation season I started to do this kind of work in Istanbul, after the excavation season. I learnt quite a lot from Wolf Schiele, former photographer of the DAI Istanbul. He gave me useful tips and I could also accompany him when he was taking photographs of the statues in the Istanbul Archaeological Museum."
Bergama, however, meant more to Taş Hanım than just the excavation. During the 1970s many carpet and rug shops were opened in Bergama. Members of the excavation team sometimes visited these shops and bought rugs. For Taş Hanım, however, these visits were more than just a shopping opportunity; she took photographs and was very curious about the origins of the designs on those carpets and rugs. In 1981 during her holidays she and Doris Pinkwart, a former member of the excavation team who also loved the Bergama carpets, visited the surrounding villages as well as the North Western Area of Turkey in order to find out the origin of these carpets with their various designs. She also took photographs of the villagers, especially of the women who produced the rugs. After these visits which continued over several years they published three books documenting the types of the locally woven kilims, saddle bags, and çuvals (sacks). Nevertheless, when Elisabeth visited the villages in Kozak again in 2019 she noticed with sadness that all her former acquaintances were gone and no one produced carpets and sacks anymore.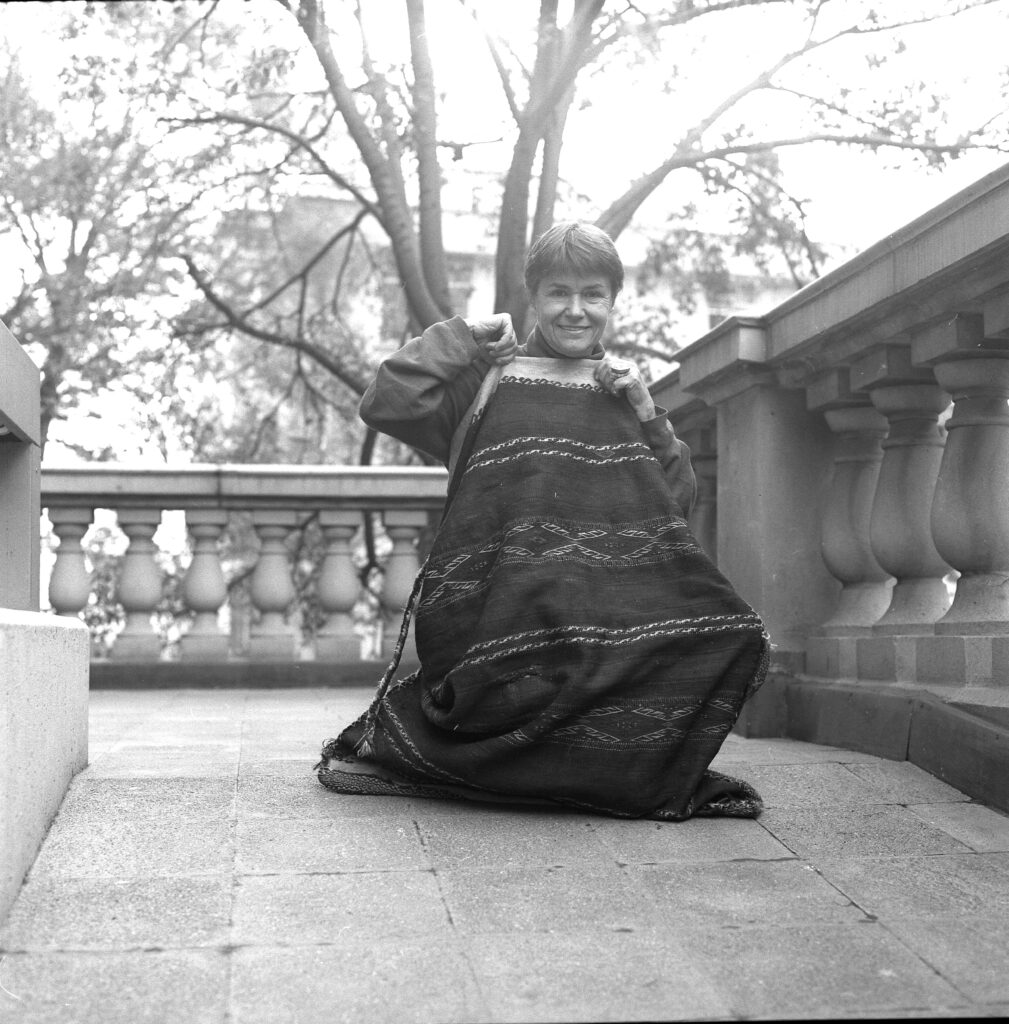 Elisabeth Steiner was not only a photographer, she was also an archivist. She archived not only the photographs that she took but also photos by photographers who had been working in Pergamon before. When the Pergamon photograph archive was transferred to Bergama from Berlin in 1966 by the joint initiative of Prof. Boehringer, archival photographs taken before the Second World War were quickly classified and glued to cardboards with the help of Ms. Sommer, and Ms. Wilde. After this, the photographs were tagged and placed in appropriate boxes. Later, when the Pergamon excavation were transferred to the responsibility of the Istanbul Department of the DAI in 1969 the archive moved again, this time from Bergama to Istanbul where it is still today.
"Photographs were taken even during the first years of the excavation and these were stored in the archive. We started to file these photographs with the help of Secda Saltuk along with contact copies systematically from 1966 when the finds from excavation increased very much."
In the end, every excavation produces its own photo archive. These photographs in the archives document every aspect and process of an excavation. It is not difficult to imagine how arduous a task it was to create such a collection particularly given the fact that analogue photography was the only technique available at that time. For instance Taş Hanım carried her cameras, which were heavier than our cameras nowadays, to every place in the excavation field. In contrary to today she had to press the shutter button of her camera only once or twice, not ten times as we do it easily now. Furthermore, she couldn't see the result of her work, not before she developed the films and made the prints in the dark room.
Rollei was the camera she was behind.
"It was Rollei that I loved very much to take photographs with. Now I use only digital camera. This is really a different world."
Her vast interests which were not restricted to excavation sites, the close connections that she forged with the people, and her contribution to the archives are proof that the science of archaeology is not only about excavating the earth.
With great esteem to everybody who has contributed to the archive.  
Author: Berna Güler, Photo Library DAI Istanbul