The speakers will give a general introduction to earth and turf building across the Roman empire, highlighting the variety of materials and methods applied. Recent work on case studies from the NW provinces, as part of the Leverhulme Trust funded research project "Earthen Empire", shows the depth of insight that can be gained from analysing this often very ephemeral evidence. Geoarchaeological methods have rarely been applied here, yet combined with digital imaging, the results allow conclusions to be drawn about source locations and material procurements, construction processes, and tool use, as well as wider landscape management impacts. Differences between sites point towards a refinement of practices over time and help to integrate building with earth and turf into the wider discourse on Roman architecture. By highlighting the effectiveness of geoarchaeological analysis for interrogating earthen structures, and the gaps that remain in our knowledge especially for Roman sites in Asia Minor, this presentation will also demonstrate the importance of integrating such methods into future excavation plans.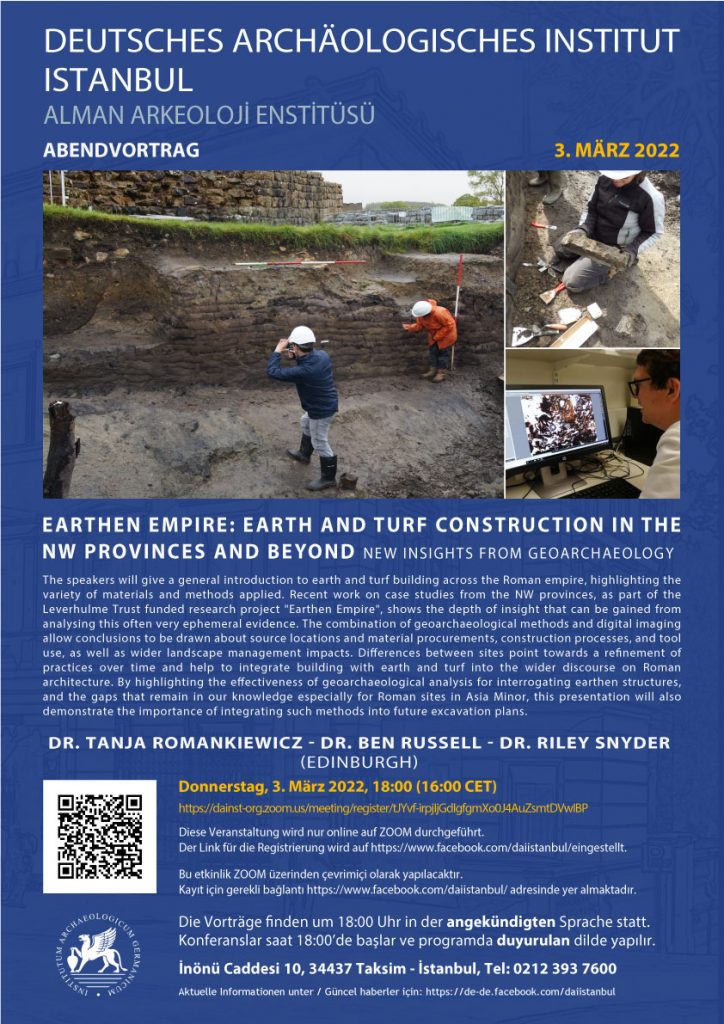 Graphic: B. Akan
Thursday, 03.03.2022, 18:00 (16:00 CET).
Tanja Romankiewicz, Ben Russell, and Riley Snyder (EDINBURGH)

The lecture will be held online via Zoom in English.
Registration link:
https://dainst-org.zoom.us/meeting/register/tJYvf-irpjIjGdIgfgmXo0J4AuZsmtDVwIBP