(English version, German below)
Groundcheck Conference "Climate – Crisis – Archaeology" on the 2nd of June 2022 at the German Foreign Office in Berlin
With increasing velocity and concurrency, we are experiencing dramatic climate and societal changes. Science and politics are challenged to defend these findings against denials and fake science, which further complicates solutions. The conference will focus on the concrete regional impacts of global climate change and show what climate change has meant for societies in the past – and still means today – with current examples of international research and a broad temporal perspective. Understanding sustainable solutions of past societies and making them useful for our present and our future will be as much a topic of the conference as finding sustainable solutions to protect cultural assets from climate change.
After a welcome address by Vito Cecere, Commissioner for Foreign Science, Education and Research Policy at the Federal Foreign Office, the conference will be opened by Jennifer Lee Morgan, State Secretary and Special Representative for International Climate Policy at the Federal Foreign Office, and an introduction by Prof. Dr. Friederike Fless, President of the German Archaeological Institute.
The opening lecture will be given by Prof. Dr. Manfred Laubichler, Global Futures Professor, Arizona State University.
Participation is only possible after prior registration. Please use the registration form at https://live.dainst.org/groundcheck/. You will be asked to enter a password for the registration area of the conference website. Please write an e-mail to kommunikation@dainst.de.
Following the link, you will also find the complete program and organizational information on safety and hygiene regulations.
---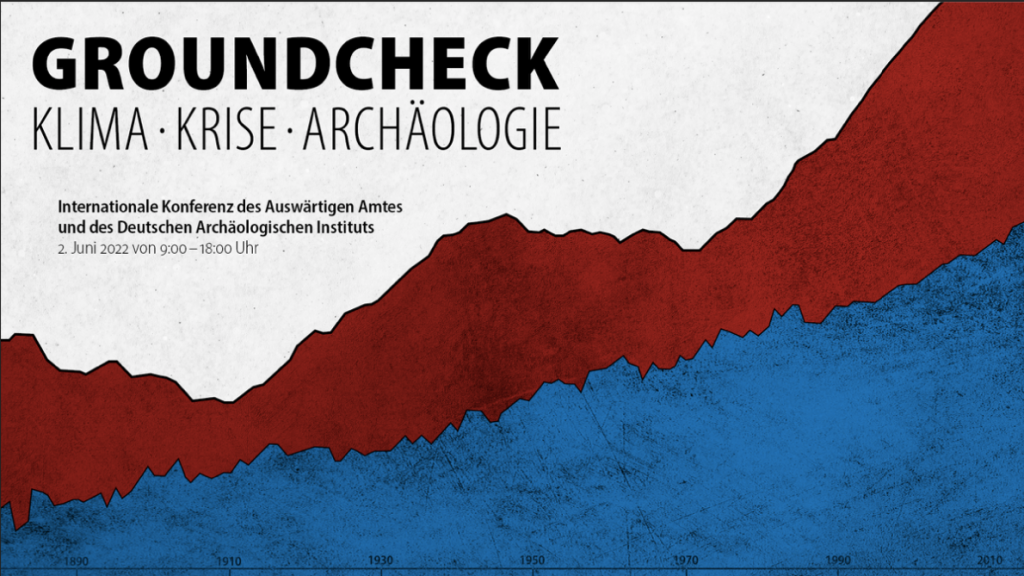 Groundcheck Konferenz "Klima – Krise – Archäologie" am 2. Juni 2022 im Auswärtigen Amt in Berlin
Mit zunehmender Geschwindigkeit und Gleichzeitigkeit erleben wir dramatische Klima- und Gesellschaftsveränderungen. Wissenschaft und Politik sind herausgefordert, diese Erkenntnisse gegen Leugnungen und fake science zu verteidigen, was Lösungen zusätzlich erschwert. Die Konferenz soll die konkreten regionalen Auswirkungen globaler Klimaveränderungen in den Blick nehmen und mit aktuellen Beispielen internationaler Forschung und großer zeitlicher Perspektive zeigen, was Klimawandel für Gesellschaften in der Vergangenheit bedeutet hat – und noch heute bedeutet. Nachhaltige Lösungen früherer Gesellschaften zu verstehen und für unsere Gegenwart und unsere Zukunft nutzbar zu machen, soll ebenso Thema der Konferenz sein, wie nachhaltige Lösungen zum Schutz von Kulturgütern vor dem Klimawandel zu finden.
Nach einer Begrüßung durch den Beauftragten für Außenwissenschafts-, -bildungs- und –forschungspolitik im Auswärtigen Amt, Vito Cecere, wird die Konferenz eröffnet durch die Staatssekretärin und Sonderbeauftragte für internationale Klimapolitik im Auswärtigen Amt, Jennifer Lee Morgan, und eine Einführung durch die Präsidentin des Deutschen Archäologischen Institutes, Prof. Dr. Friederike Fless.

Den Eröffnungsvortrag hält Prof. Dr. Manfred Laubichler, Global Futures Professor, Arizona State University.
Eine Teilnahme ist nur nach vorheriger Anmeldung möglich. Bitte nutzen Sie dazu das Anmeldeformular unter https://live.dainst.org/groundcheck/. Dort finden Sie auch das vollständige Programm und organisatorische Hinweise zu den Sicherheits- und Hygienebestimmungen.
Werden Sie aufgefordert, ein Passwort für den geschützten Anmeldebereich der Konferenz-Website einzugeben, schreiben Sie bitte eine Mail an kommunikation@dainst.de. Sie erhalten anschließend die Zugangsdaten.