Neue Forschungen am DAI
Noch breiter, noch aktueller wollen wir im Jahr 2021 über neue Forschungen am DAI informieren.
In der Reihe "DAInsight – neue Forschungen am DAI 2021″ bietet jeden Monat ein anderer DAI-Standort exklusiven Einblick in spannende Projekte und laufende Arbeiten. Präsentiert werden die DAInsights in abwechslungsreichen Online-Formaten.
August: Römisch-Germanische Kommission
05. August 2021
Dr. Isabel Hohle und Dr. Alexander Gramsch
Zum Umgang mit Assemblagen und Körpern im europäischen Neolithikum. Aktuelle Forschungen zu rituellen Praktiken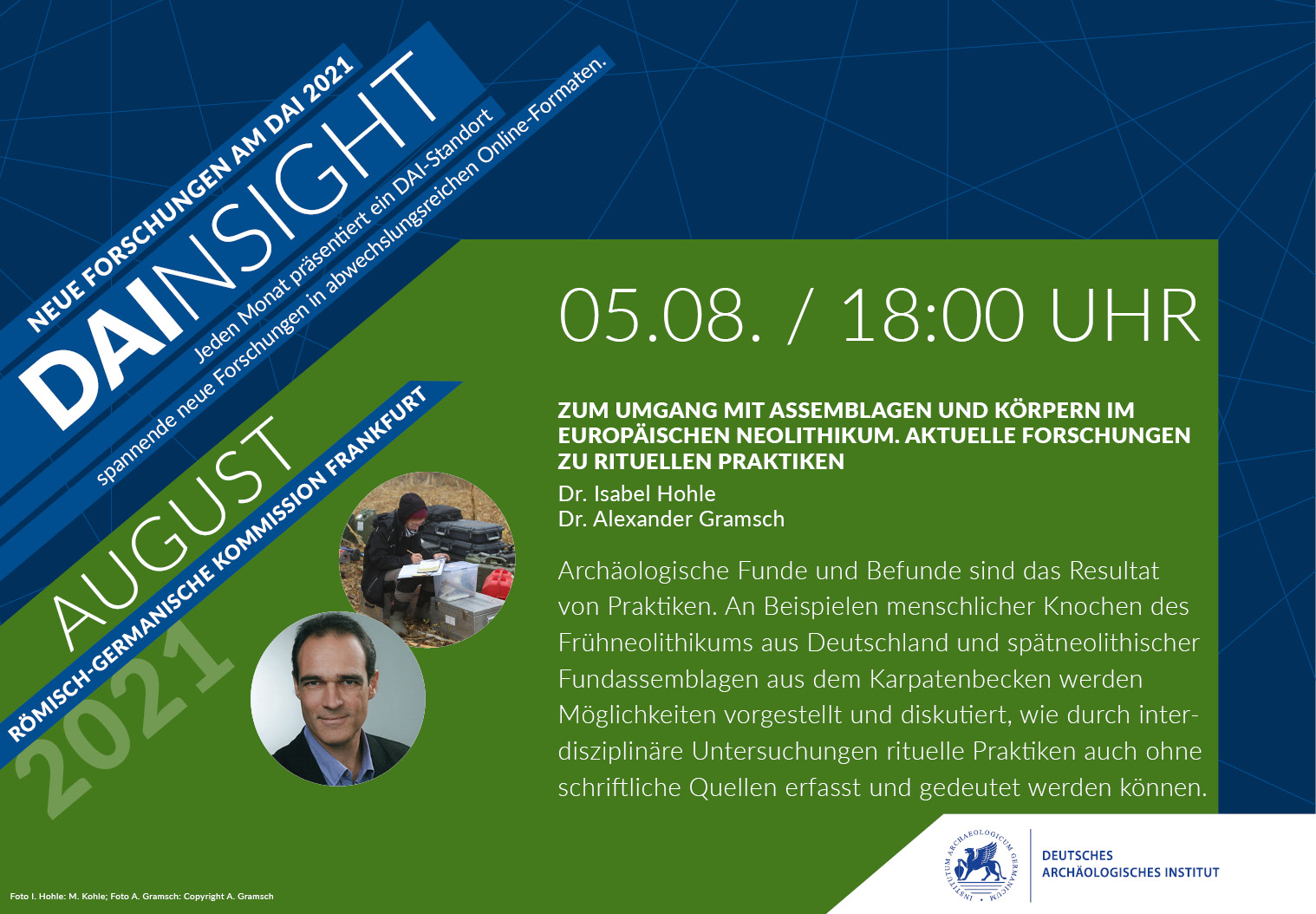 Archäologische Funde und Befunde sind das Resultat von Praktiken. An Beispielen menschlicher Knochen des Frühneolithikums aus Deutschland und spätneolithischer Fundassemblagen aus dem Karpatenbecken werden Möglichkeiten vorgestellt und diskutiert, wie durch interdisziplinäre Untersuchungen rituelle Praktiken auch ohne schriftliche Quellen erfasst und gedeutet werden können.
Bitte registrieren Sie sich für die Veranstaltung unter https://live.dainst.org/events/dainsight13/.
---
Rückblick & Videos
21. Juli 2021
Prof. Dr. Ferran Antolín (Referat für Naturwissenschaften)
Ackerbau, Risiken und Resilienzstrategien im Neolithikum im nordwestlichen Mittelmeergebiet
07. Juli 2021
Dr. Stephan Zink (Architekturreferat)
How a temple survives: Investigating building life cycles at Largo Argentina in Rome
23. Juni 2021 18.00 Uhr
Sophia Bönisch-Meyer
Antinoos in Tarsos – Vom Günstling des Kaisers zum Heros der Stadt
und
Simone Killen
Who ist who? Kaiserszenen auf römischen Münzen
Die Videos folgen in Kürze.
26. Mai 2021
Johanna Sigl, Claire J. Malleson, Leslie A. Warden & Elshafaey A. E. Attia
Family dinner – Feeding the inhabitants of a Middle Kingdom house on Elephantine Island, Aswan
The combination of multiple research methods enabled new insight into the handling of foodstuffs on Elephantine Island. House 169 revealed evidence for food items, processing devices and methods of a c. 3700 year old household.
19. Mai 2021
Dr. Daniela Rosenow & Dipl. Ing Matthieu Götz
Dahschur – Recent Research in the Old Kingdom Settlement
Dahshur is one of the most important royal pyramid cemeteries of Ancient Egypt. The first part of this lecture will highlight one of the most recent discoveries, a new settlement most likely inhabited by the people who planned the pyramids. The second part will explore the application of latest technologies, benefiting archaeology, conservation and site management.
Sie finden alle weiteren aufgezeichneten Vorträge auf dem DAI Youtube-Kanal:
https://youtube.com/playlist?list=PLq4Pz4R7ts0UPMo4cqknEooREClH-8eL5