Neue Forschungen am DAI
Noch breiter, noch aktueller wollen wir im Jahr 2021 über neue Forschungen am DAI informieren.
In der Reihe "DAInsight – neue Forschungen am DAI 2021″ bietet jeden Monat ein anderer DAI-Standort exklusiven Einblick in spannende Projekte und laufende Arbeiten. Präsentiert werden die DAInsights in abwechslungsreichen Online-Formaten.
November: Kommission für Archäologie Außereuropäischer Kulturen
10. November 2021, 18.00 Uhr
Dr. Franziska Fecher, Archäologische Forschung an der honduranischen Karibikküste
Seit 2016 finden im Rahmen eines Kooperationsprojektes archäologische Forschungen an der Karibikküste von Honduras statt. Der Vortrag gibt Einblick in die neuesten Erkenntnisse zu einer bisher wenig erforschten Kultur der späten vorspanischen Zeit (900-1525 n.Chr.).
Mike Lyons, M.A., Keramik durchleuchtet: Archäometrische Analyse der Funde von Guadalupe, Honduras
Über die wirtschaftlichen Netzwerke der früheren Bewohner der Nordküste von Honduras ist wenig bekannt. Diese Arbeit nähert sich diesem Problem aus einer archäometrischen Perspektive, indem sie Röntgenfluoreszenz- und petrographische Dünnschliffanalysen von Keramik verwendet, um Austausch- und Produktionsaktivitäten zu identifizieren.
Dr. Heiko Prümers, Aus der Luft begriffen: Airborne Laserscanning von vorspanischen Siedlungen im bolivianischen Amazonas-Tiefland
In den Llanos de Mojos (Bolivien) finden sich mehrere hundert vorspanische "Siedlungshügel" aus der Zeit zwischen 500-1400 n.Chr., die der Casarabe Kultur zuzurechnen sind. Welche Ausmaße die größten jener Siedlungen hatten, zeigte sich erst nach Auswertung von LIDAR Daten aus dem Jahr 2019. Alles deutet darauf hin, dass das Siedlungsmuster dem entspricht, was in der neueren Literatur als "tropical low-density urbanism" bezeichnet wird. Es ist der bislang einzig bekannte Fall aus dem Amazonas-Tiefland.
Bitte registrieren Sie sich hier: https://live.dainst.org/events/dainsight21/
17. November 2021, 18.00 Uhr
Dr. Hendrik Rohland, Digitale Archäologie in mongolischen Orchontal
In den seit 2000 laufenden Projekten im Orchontal haben schrittweise all die digitalen Technologien Einzug gehalten, die heute auf Grabungen selbstverständlich sind; darunter digitale Vermessung, Digitalfotografie, Lidar-scans, Datenbanken, CAD und GIS, Photogrammetrie, UAVs und3D-Technologie. Derzeit wird an der Vereinheitlichung und digitaler Publikation dieser Datenbestände verschiedener Projekte gearbeitet. Der Vortrag stellt einige dieser Projekte vor und gibt einen Ausblick auf die zukünftigen Planungen.
Dr. Sonja Tomasso, Archäologische Forschungen auf der Insel Malaita, Salomonen. Funktionale Untersuchungen an prähistorischen Steinartefakten.
Die Salomonen Inseln im westlichen Südpazifik gelegen, gehören zum Kulturraum Melanesien. Mithilfe von mikroskopischen Gebrauchsspuren und Residuenanalysen an den prähistorischen Steinartefakten werden spezifische Aspekte zur materiellen Kultur, zur Technologie und Nutzung der Werkzeuge früher Siedler im pazifischen Raum beleuchtet.
Dr. Annette Kühlem (Christian-Albrechts-Universität Kiel), Der Sitz der Götter, die Riesenschlange und die große Flut – Die Monumentalen Erdwerke Palaus (Mikronesien)
Die monumentalen Erdwerke Palaus sind eines der eindrucksvollsten Bei­spiele anthropogener Landschaftstransformation in Ozeanien. 3D-Dokumentationen und (geo)archäologische Untersuchungen liefern Anhaltspunkte zur Genese, Funktion und Bedeutung der Anlagen. Die heute nur spärlich besiedelte Insel Babeldaob muss einst eine zahlreiche Bevölkerung gehabt haben, deren Bauwerke die Landschaft bis heute dominieren.
Bitte registrieren Sie sich hier: https://live.dainst.org/events/dainsight22/
---
Ausblick Dezember: Abteilung Madrid
8. Dezember 2021
Spuren des Ostens im fernen Westen: Aus der aktuellen Arbeit der Abteilung Madrid
Auf Grabungsprojekte ganz unterschiedlicher Zeitstellung wird aktuell der Frage nachgegangen, inwieweit sich an archäologischen Befunden das Ausmaß des Austausches an Gütern, die Migration von Individuen oder der Transfer von Ideen von Ost nach West nachzeichnen lässt.
Bitte registrieren Sie sich hier: https://live.dainst.org/events/dainsight23/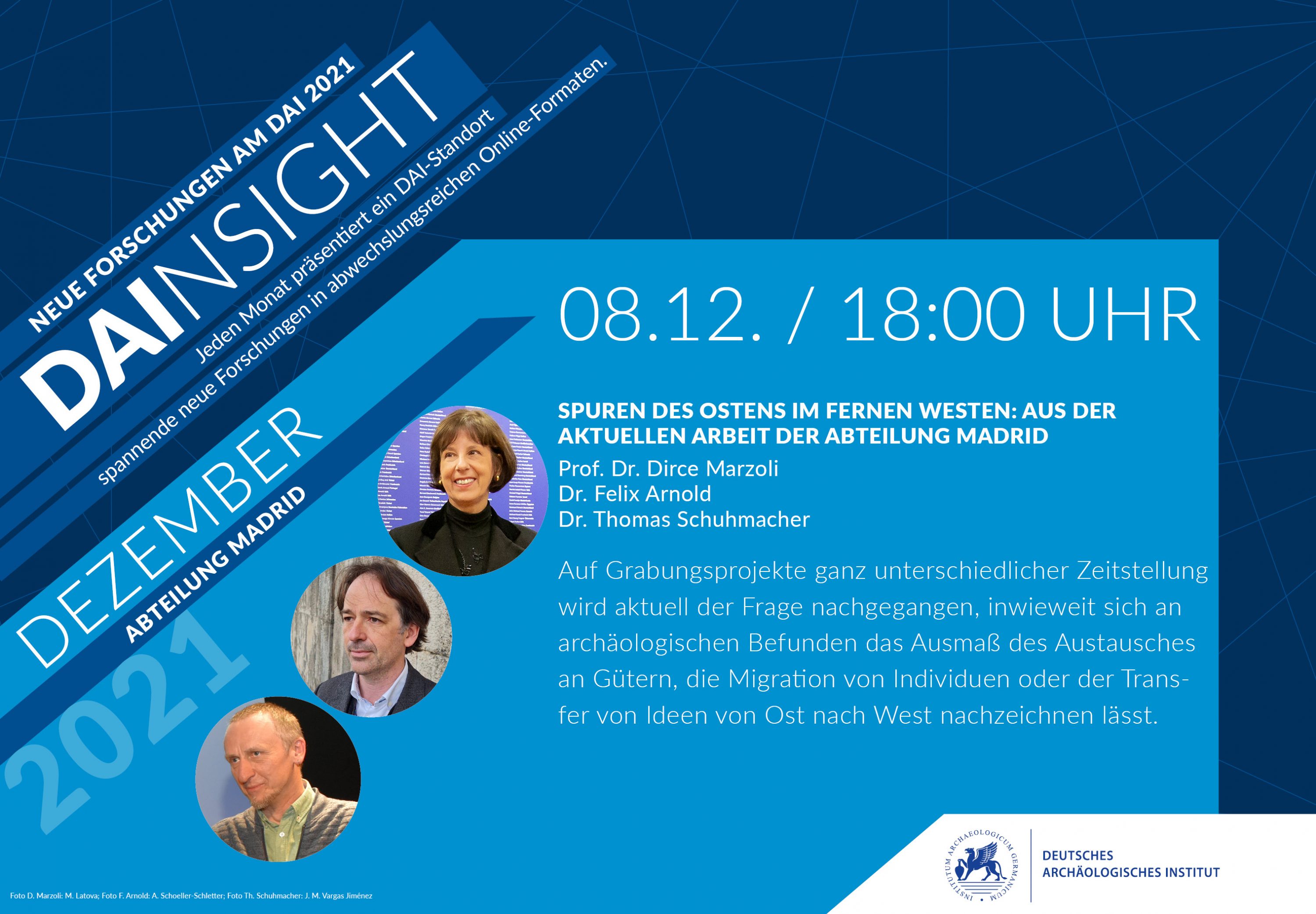 ---
Rückblick & Videos
06. Oktober 2021
PD Dr. Reinhard Senff: Olympia. Ausgrabung und Denkmalpflege. Aktuelle Arbeiten des DAI im Heiligtum des Zeus
Dr.-Ing. Themistoklis Bilis: Olympia, The Workshop of Pheidias. Restoration Study – Architectural Observations.
Sie finden alle weiteren aufgezeichneten Vorträge auf dem DAI Youtube-Kanal:
https://youtube.com/playlist?list=PLq4Pz4R7ts0UPMo4cqknEooREClH-8eL5