"800 Jahre Karakorum – 20 Jahre archäologische Ausgrabungen der Mongolisch-Deutschen Karakorum-Expedition"
Nachdem im Jahr 1999 erste Voruntersuchungen der neu gegründeten Forschungsexpedition durchgeführt worden waren, startete das Team der Mongolischen Akademie der Wissenschaften unter Leitung von Dovdoigiin Bayar und Ulambayar Erdenebat, dem Deutschen Archäologischen Institut unter Leitung von Hans-Georg Hüttel und Christina Franken und der Universität Bonn unter Leitung von Helmut Roth und Ernst Pohl im darauffolgenden Jahr mit großflächigen Ausgrabungen in zwei ausgewählten Bereichen der mittelalterlichen Stadtanlage.
In Teamarbeit entwickelten deutsche und mongolische Studenten und Archäologen gemeinsam eine Grabungsstrategie und ein Dokumentationssystem, um in Beschreibungen, Zeichnungen und Fotos alle neuen Erkenntnisse dauerhaft festzuhalten. Mit Schaufeln und Schubkarren, Kellen und Pinseln sowie mit großer Unterstützung durch die Einwohner von Harhorin konnten in den Sommermonaten der folgenden Jahre Schritt für Schritt Erd-, Sand- und Erosionsschichten von den Überresten der Stadt entfernt werden. Im Laufe der Zeit wuchs die Erfahrung stetig und es gelang immer besser, Erdschichten, architektonische Reste und auch das vielfältige Fundmaterial zu verstehen und zuzuordnen.
---
The excavation by the MDKE begins
"800 years Karakorum – 20 years of archaeological excavations by the Mongolian-German Karakorum Expedition"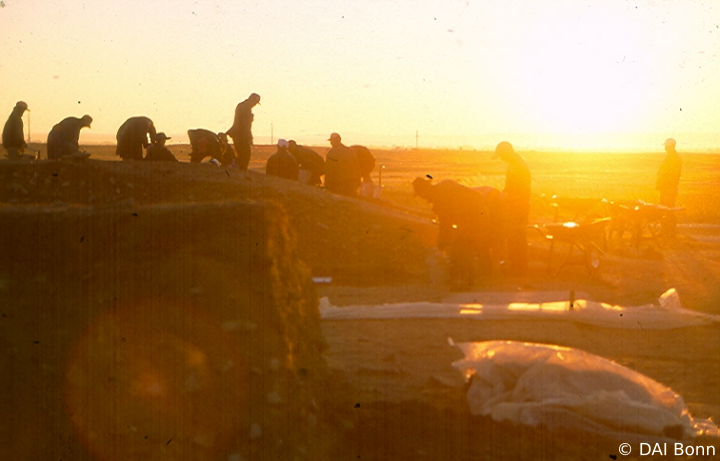 After the first preliminary investigations of the newly founded research expedition had been carried out in 1999, the team of the Mongolian Academy of Sciences led by Dovdoi Bayar and Ulambayar Erdenebat, the German Archaeological Institute led by Hans-Georg Hüttel and Christina Franken and the University of Bonn led by Helmut Roth and Ernst Pohl started large-scale excavations in two selected areas of the medieval city complex the following year.
In teamwork, German and Mongolian students and archaeologists jointly developed an excavation strategy and a documentation system to record all new findings permanently in descriptions, drawings and photographs. Using shovels and wheelbarrows, trowels and brushes, and with great support from the inhabitants of Harhorin, it was possible to remove layers of earth, sand and erosion from the remains of the city step by step during the summer months of the following years. In the course of time experience grew steadily and it became more and more possible to understand and classify layers of earth, architectural remains and also the varied findings.