English version below
"800 Jahre Karakorum – 20 Jahre archäologische Ausgrabungen der Mongolisch-Deutschen Karakorum-Expedition"
Im Jahr 1997 übermittelte die mongolische Akademie der Wissenschaften über den Bonner Mongolisten Klaus Sagaster den Wunsch zur gemeinsamen archäologischen Erforschung der alten mongolischen Hauptstadt Karakorum und schon am 18. September 1998 konnte im Beisein von Bundespräsident Roman Herzog auf dem Stadtgelände von Karakorum der Kooperationsvertrag der neu gegründeten Mongolisch-Deutschen Karakorum-Expedition (MDKE) feierlich unterzeichnet werden. Die Mongolische Akademie der Wissenschaften, die Rheinische Friedrich-Wilhelms-Universität Bonn und das Deutsche Archäologische Institut haben es sich seitdem zur Aufgabe gemacht als Partner gemeinsam die Überreste der großen Stadtanlage zu erforschen. Um den Stellenwert der Zusammenarbeit zu bekräftigen, übernehmen die Präsidenten beider Länder die Schirmherrschaft über das Projekt.
Im Sommer 2000 reist erstmalig ein großes Team deutscher und mongolischer Studenten und Wissenschaftler nach Karakorum, um gemeinsam die ersten umfangreichen Ausgrabungen zu beginnen. Das Hotel Bayanburd in Harhorin wird von nun an zum zweiten Zuhause des Grabungsteams während der Sommermonate. Für alle wird der internationale Austausch und die intensive Zusammenarbeit von deutschen und mongolischen Kollegen über Jahre zu einer großartigen und persönlich prägenden Erfahrung.
---
"800 years Karakorum – 20 years of archaeological excavations by the Mongolian-German Karakorum Expedition"
"How it all started"
In 1997, the Mongolian Academy of Sciences conveyed with the help of the Mongolist from the Bonn University, Klaus Sagaster, the wish for a joint archaeological research of the ancient Mongolian capital Karakorum. Already in 1998 on September 18, in a ceremony on the city grounds of Karakorum the cooperation agreement of the newly founded Mongolian-German Karakorum-Expedition (MDKE) was signed in the presence of Federal President Roman Herzog. Since then, the Mongolian Academy of Sciences, the Rheinische Friedrich-Wilhelms-University Bonn and the German Archaeological Institute have made it their task to jointly research the remains of the large city complex as partners. In order to underline the importance of this cooperation, the presidents of both countries have taken over the patronage of the project.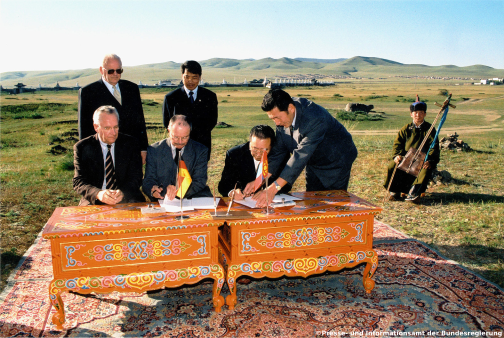 In summer 2000, a large team of German and Mongolian students and scientists travels to Karakorum for the first time to begin the first extensive excavations. From now on the Hotel Bayanburd in Harhorin becomes the second home of the excavation team during the summer months. The international exchange and intensive cooperation between German and Mongolian colleagues is still a great and personally formative experience for all.