Konferenzankündiung mit freundlicher Genehmigung von B. Ricquier.
'Entangled Africa' im wissenschaftlichen Austausch zur vorkolonialen Geschichte Afrikas
Seit nunmehr einem Jahr konnten keine internationale Konferenz mehr in Präsenz stattfinden. Die meisten Veranstaltungen aus 2020 wurden abgesagt oder ganz verschoben. Daher ist es umso bereichernder, dass sich nun Kolleg*innen aus aller Welt endlich wieder begegnen und austauschen können, natürlich nur im virtuellen Raum.
Die Konferenz "Extracting the Past from the Present" sollte ursprünglich in Brüssel stattfinden. Doch auch im virtuellen Raum gelang es den Organisatoren um Birgit Ricquier, ULB, den wissenschaftlichen Austausch zur interdisziplinären Erforschung der vorkolonialen Geschichte Afrikas wieder in Gang zu bringen.
Drei Projekte des 'Entangled Africa' Schwerpunktprogramms haben mit ihren Beiträgen das Konferenz-Geschehen aktiv mitgestaltet: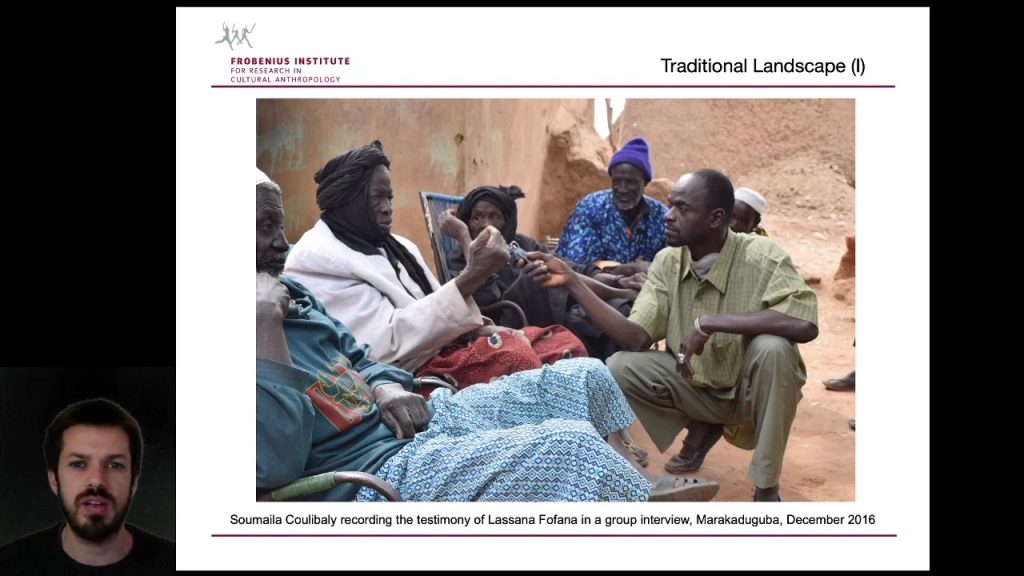 Alexa Höhn (Cultivated Landscapes): "Useful trees on the move? – Comparing evidence from archaeological charcoal with descriptions from the recent past"
Ulrike Nowotnick (Connecting Foodways): "Glimpses into cooking pots – observations on past and present Sudanese foodways"
Nikolas Gestrich (Borrowed words and shared objects): "Kala, an archaeological, historical and traditional landscape in Mali"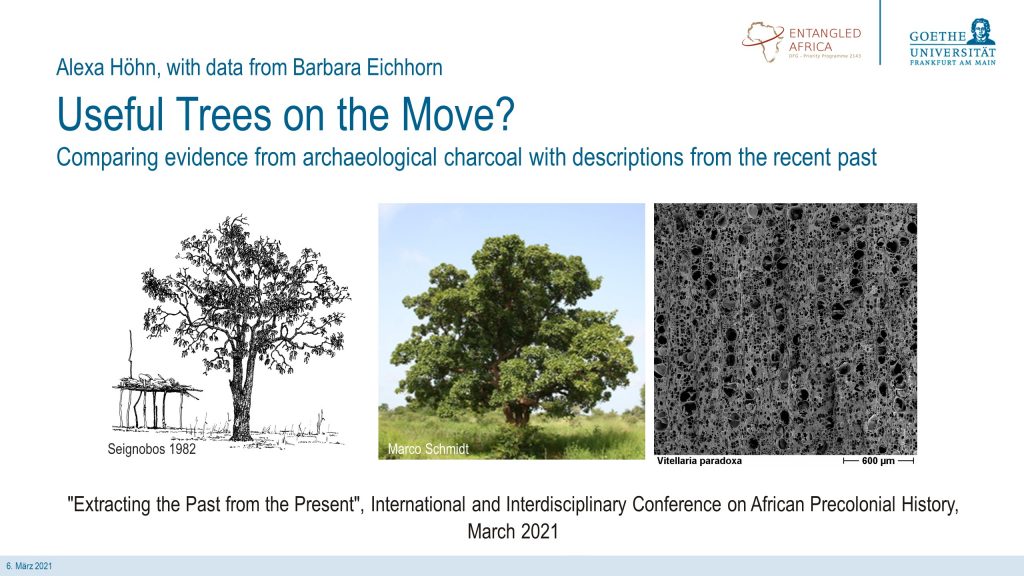 Mit einer Mischung aus asynchron abrufbaren Beiträgen, interaktiven Diskussionsrunden per Videokonferenz und einem Forum für schriftliche Kommentare und Fragen kam die 'Community' miteinander ins Gespräch. Nur die sonst so anregenden informellen Runden, z.B. in den Kaffeepausen und Abendveranstaltungen, ließen sich leider nicht ersetzt.
Der Austausch mit Kolleg*innen auf verschiedenen Kontinenten von Afrika bis Australien und mit einer Vielfalt an wissenschaftlichen Hintergründen und Forschungsfragen war für unsere drei 'Entangled Africa' Projekte sehr bereichernd. Wir sind dankbar für diese neuen Formate des kollegialen Austauschs. Aus den Informationen zur spannenden Arbeit aus anderen Institutionen und Projekten konnten wir während dieser Konferenz Inspiration und neue Perspektiven für unsere eigenen Forschungsarbeiten mitnehmen.
Präsentation, Fotos und Screenshots: U. Nowotnick.
Co-Autoren dieses Posts: N. Gestrich und U. Nowotnick.